Why did the Cornet become a second rate citizen?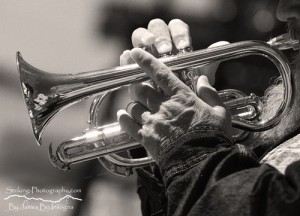 First I need to apologize to the uninitiated followers of trumpet history. This will not be an entertaining document. This might be boring to the casual reader but for the rest of us who are deeply interested in how our trumpet/cornet history has been developing, I think this is worth reading.
Most of us are trumpet players and the thought of playing a cornet sometimes turns us off. The reason could be that many think that we began on a cornet and when we got
good
, we switched over to a
real
instrument. How this idea ever got started is a wonder to many of us. If I were a craftsman and needed to remove a nail from a board, I would choose a claw hammer. If I needed to hammer out some sheet metal, I would select a ball penne hammer. Making the selection between a trumpet and a cornet should be made for the same reason. One instrument does a job that the other can not. Some might argue that they are the same instrument and that might be the real reason there is so much confusion and argument over the importance and use of each instrument. This past week I have been bothered by one thought which has kept me up at night. Why did we put the cornet on the back shelf and replace it with the trumpet? After searching many sources on the internet, I found three possible reasons which I will share with you.
Theory #1
"Did Louis Armstrong cause the switch from cornet to trumpet?"
In a paper written by John Wallace, entitled
The Emancipation of the Trumpet
, he traces the history and popularity of both the trumpet and the cornet. I
strongly
recommend that you read this paper for not only is Mr. Wallace a gifted player and trumpet teacher, he is a very interesting music historian (can there be such a person?). In his paper he traces the loss of popularity of the cornet and seems to think Louis Armstrong had a significant roll in the cornets loss of stature. He wrote, and I agree with his theory, that during Armstrong's evolution as a jazz musician, his switch from cornet to trumpet could have swayed the whole music scenes preference from the cornet to the trumpet. I have greatly simplified and perhaps misstated his thinking and for that reason you need to read his paper as he had originally written it. Mr. Wallace impressed me greatly after reading his play by play analysis of Pop's transition via the recordings of that time. I was very impressed with his commentary of individual recordings and the subtle changes in Armstrong's style of playing, first starting as an ensemble cornet player and eventually evolving into a dominating trumpet soloist.
I have no doubt that a figure as revolutionary as Satchmo could have changed history. On page 76 of Mr. Wallace's paper, he quotes Armstrong as saying "Of course in those early days we did not know very much about trumpets. We all played cornets. Only the big orchestras in the theaters had trumpet players in their brass sections (….) at that time we all thought you had to be a music conservatory man or some kind of a big muckity-muck to play the trumpet. For years I would not even try to play the instrument". This quote was taken from the book Satchmo: My Life in New Orleans (London,1955), page 190 by Louis Armstrong. As Mr. Wallace continued in his paper, he compares the early ensemble style to Louis's more leadership playing style and Armstrongs switch from cornet to trumpet was a logical observation. The trumpet was more of a lead instrument and in the hands of such an artist, it would be logical that Armstrong's dominance in jazz as well as popular music could have cast a dark trumpet shadow over the once revered cornet. Could it have been possible for one man to change the popularity of such a wonderful instrument as the cornet? I strongly encourage you to read this interesting and informative paper for yourself
same day payday loans
.
Theory #2
"Did Vincent Bach aid in the cornets fall from grace?"
Good morning class. You now have another reading assignment. This time we will be reading from
A Brief History of the Cornet
by Tom Turner. I also found this article interesting for it gives another view of the evolution of the cornet. You must read this for your selves for I might not convey the authors true thoughts on this topic.
I have decided to include
some
material from his writing. This was taken from page one, last five paragraphs of his paper.
"In 1924 Vincent Bach began making revolutionary mouthpieces too. These had much wider rims that were more rounded in the lip contact area and with deep but rounded "C" shaped cups that were brilliant and cutting
but not harsh
! Also, and very important for sellers and potential buyers, these rims were so forgiving that even self-taught "lip-mashers" as well as those with less development as players could mash the mouthpiece against the chops and last longer!
By the 1930s most cornets that were made were the "trumpet-bell" type "long models." With traditional funnel-shaped mouthpieces they were still fairly mellow, though not as gentle and mellow as a shepherd's crook cornet with the same funnel mouthpiece.
However, most young band players (like today) wanted to be heard
above
their band and the "C" shaped cornet mouthpieces made the kid's cornet almost as dominant as if he'd bought one of those newfangled Bach Strad trumpets or Conn 2B or 22B cornet-like trumpets cloned from the F. Besson trumpet!
By the 1960's the poor cornet was (temporarily)
dead
! Virtually all cornet mouthpieces sold in America were basically trumpet mouthpiece tops on shorter cornet shanks. Plus, some companies made cornets and trumpets that were basically the
same
instrument except in the leadpipe area where one would be made for a cornet mouthpiece and the other for trumpet. The long model Conn Connstellation cornet/Connstellation Trumpet are a good example. The cornet's model number ended in "A" (like all Conns did then) and the trumpet ended in "B."
The cornet died because, in the end, it couldn't quite project as well as the cornet-like trumpets we now all play. Both instruments had moved towards each other until the gentle cornet sound was heard no more".
I have one additional comment to make pertaining to the Bach improvement on the rim contour and the subsequent increase in comfort to the player. When first reminded of the change of the cornet mouthpiece to a more comfortable Bach rim, I was reminded of a story I had heard many years ago. Thanks to the internet, I was able to find verifying information about the year Armstrong was forced to stop playing his horn because of an injury to his chops. I wanted to know if this happened at the same time Pops was making the change from cornet to trumpet and in essence making a change from a "cookie cutter cornet mouthpiece" to the modern Bach rim. My answer was found in the following article.
Rupture of the Orbicularis Oris in Trumpet Players (Satchmo's Syndrome)
Plastic and Reconstructive Surgery. April 1982
© The American Society of Plastic and Reconstructive Surgeons
Jaime Planas, M.D
Barcelona, Spain
"Satchmo was a nickname of the great trumpet player of New Orleans, the king of jazz, Louis Armstrong. We used his name to label this syndrome because apparently it fits with the symptoms he experienced in his lips in 1935 that obliged him to stop playing the trumpet for 1 year".
When comparing the dates of his hiatus from the trumpet with the John Wallace's
The Emancipation of the Trumpet
chronology, it confirms the fact that Armstrong had made the convergence to the trumpet at least seven years before his lip injury. In other words, Sachmo's switch from the old style V cup and narrow rimmed cornet mouthpiece to the modern Bach mouthpiece could not have caused his lip problem. I found this interesting and have only included it to answer any questions that you might have had about an additional reason for his switch from cornet to trumpet.